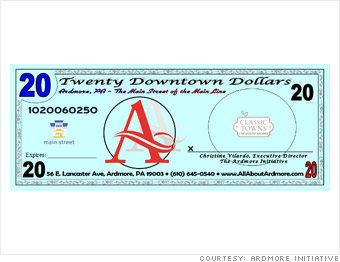 Location: Ardmore, Pa.
Started: 2010
When a snowstorm hit the Philadelphia suburb of Ardmore, Pa., on Valentine's Day 2010 and ruined an important holiday shopping weekend for already-struggling retailers, John Durso decided to take action.
Durso, who heads a nonprofit business association called the Ardmore Initiative, formed a local currency called "Downtown Dollars" that essentially doubled the value of shoppers' money.
"Consumer spending is key to recovering our economy," said Durso. "I knew I had to do something to get people off their butts and get them spending, so I said every dollar you spend, we'll match — and that seemed to work."
Each community member was able to go to the Ardmore Initiative and exchange $100 of their own money for 200 Downtown Dollars, which retailers would accept as $200 U.S. dollars — essentially providing customers with a 50% discount. The store owner could then simply take the 200 Downtown Dollars to the Ardmore Initiative and exchange them for $200 U.S. dollars.
Of course, someone had to absorb the loss. The Ardmore Initiative, which is funded by a tax assessed on local property owners, fund raising efforts and grants, spent $8,500 to fund the first round of Downtown Dollars. Local community banks funded the second round with a total of about $10,000.
Since March 2010, more than 200 consumers have purchased $35,000 worth of Downtown Dollars and spent them at more than 100 local businesses. As of this March, businesses had redeemed nearly $28,000 worth of the currency, generating around $42,000 in total sales for businesses (based on receipts from participating businesses).
Durso said he is ready to pull the trigger on round three whenever the town needs it, which could be this winter if another blizzard hits or if retailers really start to suffer because of the economy.